You now know how to connect and wire for sound your electric violin. Let's now find out how to record and create personal compositions or covers using an electric violin and a computer.
Attention, this article refers only to the connection between a computer and an electric instrument, not an acoustic. In case you have an acoustic instrument, you will first have to wire it for sound with a microphone or a sensor capable of recording the sound played.
What kind of computer do I need?
Most newer computers can record the sound of your electric violin. As long as the connectors, adapters and audio interfaces are compatible. The capacity of the computer will rather depend on the type of software you use. If you work with a professional software like Cubase or ProTools, you will need a computer powerful enough to work on your tracks.
Let's start now with the connectors. There are several options for connecting an electric violin to a computer (whether is a Mac or a PC). In this article, we have gathered 4 possibilities to connect these two objects.
Connect your electric violin directly to the Line input of your computer
We mention this possibility because it may be feasible. However, and quite clearly, we do not recommend it at all. You will not be able to properly record the sound of your electric violin using the Line input of your computer…
What types of connectors are we talking about?
On a computer, there are generally 3 types of ports for managing audio streams:
As the name suggests, it is conceived to capture the sound of a microphone (e.g. a headset), not the sound of an instrument. It is absolutely not intended to handle the impedance of your electric instrument and you will not get a correct result using it. The sound will necessarily be saturated since it is far too powerful. What's more, you may damage the motherboard of your computer.
It can normally receive a "powerful" signal, or one that has been amplified by an electrical device. Be careful, the connectors on the motherboards have a lower quality. The result will not meet your expectations.
Audio output (color green)
No need to try to connect your violin to this jack, it's not an input but an output. It is therefore intended to connect speakers or headphones.
Specific case for laptops
If you are using a laptop, you may have a single jack handling both the microphone input and the audio output (but no Line input). In this case, you can directly switch to the "USB relay" solution. Do not take the risk of using the microphone input and damaging your computer hardware, inexpensive solutions exist and are mentioned here below.
If after all, you still want to use the Line input of your computer, it is better to put a relay that can handle the impedance of your electric violin. Try to do this even if this Line input jack can normally handle it. The Line input connectors are audio interfaces, but unfortunately their qualities are often unsatisfactory.
What is an audio interface? and what is it for?
An audio interface is a tool that converts the analog signal (or signal from your electric instrument) into a digital signal that can be used by a computer. Without an audio interface, it is impossible to decipher the transmitted signal…
Using a relay between the electric violin and the Line input
We recommend going through a relay, as the computers' Line input jacks have lower quality and are not really conceived to handle the powerful sound of electric musical instruments. An amp or an effects pedal can fulfil this role. This allows you to manage the signal and to pass it beforehand to a device designed to support it…
Connect your electric violin to your amp, then your amp to your computer using the headphone output or the line-out of the amp and the Line input of the motherboard of your computer. This will solve the problems of impedance; nevertheless, the sound quality will be lessened…
It will be necessary to use jack to mini-jack adapters to successfully connect everything.
Use a small USB relay for electric guitar
If you have a small budget, this may be the best option available to you. These small boxes have a USB interface that allows them to be easily connected and recognized by your computer. They have an audio interface that controls the impedance of your instrument and therefore protects your computer equipment…
Be careful, some devices can sometimes generate white noise. We encourage you to read the comments of the users before you decide.
Discover our article: Deal and eliminate interferences in the audio signal.
These little relays can also allow you to play on your phone or tablet… Ideal when traveling! Moreover, many of our musician friends, including many violinists and guitarists, use these small USB relays when they're on the road and connect them to a tablet to replace an effects pedal (often too heavy to transport when traveling by plane).
Use a real internal sound card or a USB
There are dozens available for any budget… At 3Dvarius, we use several different brands (Behringer, ProTools, Steinberg, etc.) and their use depends on our needs and the computer equipment we have.
First of all, we recommend you take a look at your budget because the prices vary from fifty to several hundreds of euros… Of course, the price will affect the sound quality; especially for entry-level sound cards that tend to generate noise.
Internal vs external sound cards
Some must be installed inside your computer, others are external and therefore have a USB interface. Sound cards with a USB interface are certainly the easiest to use. They connect as easily as a mouse or keyboard. You may prefer the latter if you have never installed new items inside your computer or if you are using a laptop.
Conversely, internal sound cards require opening your computer and a more extensive installation. You'll have to determine the type of slots available on your motherboard: PCI, PCI Express, etc. and have absolutely a minimum of knowledge about assembling a computer.
Note that there are also sound cards with firewire or thunderbolt connectivity. Just like USB these are terms defining types of connectors. For example, the latest generations of Macintosh use thunderbolt instead of USB. Also, check that the sound card you have chosen supports your operating system. Some only work on Windows and will not be compatible with MacOS.
All these sound cards are usually equipped with one or more jack or XLR connectors. They usually come with software. But if you use a particular software, the sound card will generally be recognized by the latter.
Use an amp and a microphone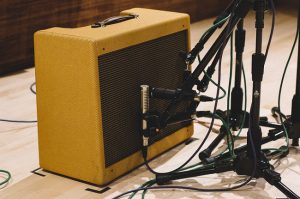 Another possibility is to use a microphone that will capture the sound produced by your amp. The advantage of this solution is that this captures the sound of the amp which will render special sound nuances.
If you want to record your amp, you will need a dynamic microphone (vs static). These microphones are highly-recommended to record the sound produced by amps. The difficulty then, will be to find the best location to position your microphone and get the sound that suits you best.
For information and conversely, a static microphone is recommended to record voices, piano and acoustic instruments. Attention, static microphones require phantom power which means that you will have to pass them through an interface: mixer, audio interface, etc.
Images: vintageking, 3Dvarius, Tom Pottiger
If you have any doubt or question, feel free to contact us.