When we are getting started and we want to buy our first electric violin, the first questions arise on this specific type of violin. An electric violin is certainly a violin, but its operation can be a mystery to the uninitiated and beginners.
This guide to buying an electric violin was developed after several meetings with professional violinists and students at major international events such as the NAMM Show or Musikmesse. These meetings led us to discuss with renowned violinists such as Jean-Luc Ponty, Catherine Lara, Daniela Padrón and even Rachel Grace, as well as with Juilliard and Berkley School students.
Their feedback allowed us to create this guide to buying an electric violin by detecting the factors to be considered when buying an electric violin, and taking into account the expectations and needs of each person. Some violinists insisted on the sound quality, where others focused on the comfort when playing…
First of all, note that the important factors when choosing a classical violin are also to be taken into account when buying an electric violin. However, new parameters need to be analyzed and compared such as the type of bridge (pickup), the number of strings, and so on.
From our point of view, 5 key questions should lead you to choose an electric violin:
What is your budget?
This is probably the most important question because you will not have access to every electric violin depending on your budget. We receive many comparative questions, particularly questions about low-end electric violins (costing less than $600). Let us be clear, with such a small budget, you will not have a good electric violin… You will certainly have an electric violin but once connected, you will be disappointed by the sound it produces, the white noise it generates, the paint that cracks or lose its color on your hands, etc.
It is better to wait until you can afford a better electric violin than to buy something very disappointing…
We no longer consider the comments of violinists having made inconclusive purchases of very low-end electric violins. One of them even told us that he had blue hands after 30 minutes of playing. The poor-quality paint had melted on his hands.
For a first electric violin, keep in mind that an electric violin on which you will enjoy playing it will cost you at least 900 €. Why don't you take a closer look to the characteristics of our Line electric violin? It was created to experiment electric music in great conditions.
If you have a larger budget, you will have dozens of options available.
What would you like to do with your electric violin?
The question may seem simple and yet a whole bunch of parameters must be considered. So, what do you plan to do with your electric violin?
Play quietly at home
Use it with headphones
Play in public or on stage with other musicians
Try out an electric violin to see if I like it or not
Get started with electric effects
Simplify my sound on stage
Switch to a violin with 5 strings
Find a violin as comfortable as my classical violin
Here are some examples that can help you get you started in the electric domain. These are the main reasons we are given when we are talking to electric violinists.
Trying out an electric violin for the first time or Playing quietly at home
If you want to play silently at home with a headset just because a classical violin mute does not attenuate the sound enough, or if you want to try out an electric violin to know if you like it or not, then we recommend that you start with our first range of products, such as the Line.
Note however that as for electric guitars, the essence of the electric violin is to transform the sound produced through effects. It will then be necessary to invest a little more on a first effects pedal or to buy a mini-amp that can be connected to a tablet (or a phone) that will play the role of an effects pedal.
If you do not know how to connect an electric violin, this article will help you.
Using the electric violin with headphones
A question that often comes up is the connection of headphones to the electric violin. Any electric violin can be used with headphones, just use a device that allows it, such as an amp, a mini-amp or an effects pedal. As long as your device has a headphone output, you can play the electric violin with your headphones!
Recording in a studio, playing and simplifying my sound on stage
If you are already a seasoned musician, and you are familiar with preforming in public, or you're familiar with recording in a studio, is because you have already got one foot in the professional community. In this case, you may want to focus on:
the sound of the electric violin
the quality of its sound sensor
its technical characteristics
and its design
In our electric violin range, the Equinox and the 3Dvarius are able to perfectly answer to professional needs.
Of course, the better the quality of the sound sensor, the more powerful the sound will be, and it will also be properly recorded in a specialized software like Cubase or ProTools.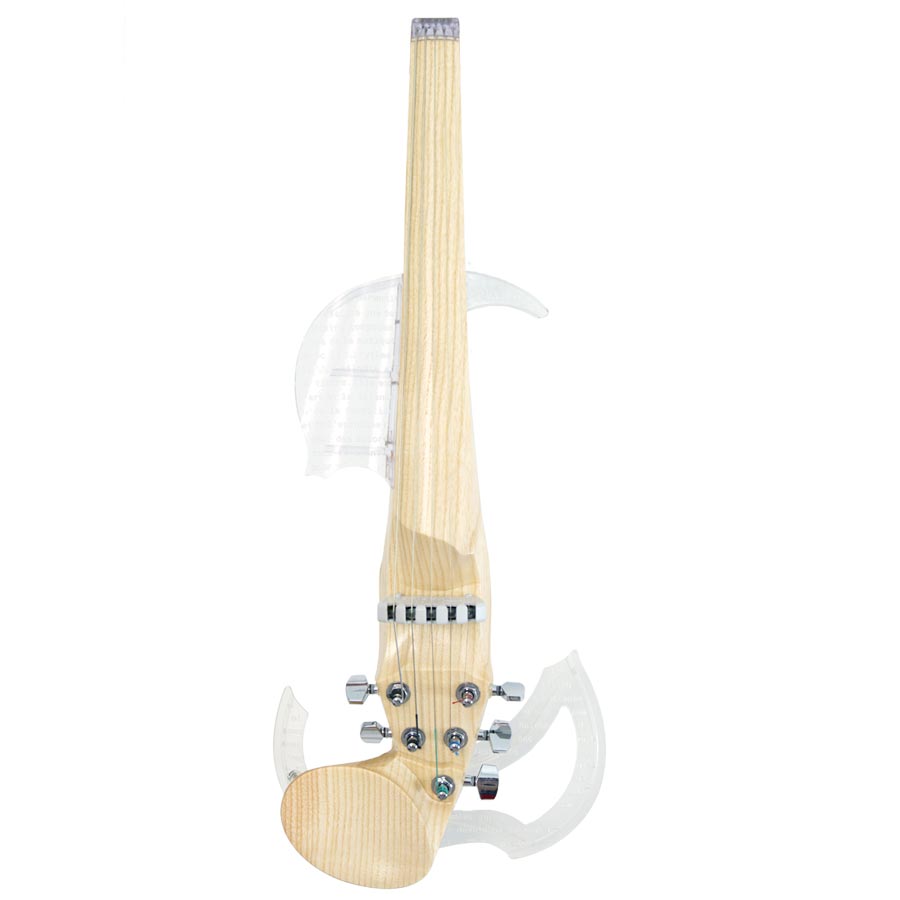 If you are a professional violinist, look for violins with a powerful sound sensor with at least one sensor per string. The sound will be more harmonious, powerful, clear and noise-free, which will make any performance on stage or recording easier.
The sound will be more harmonious, powerful, clear and noise-free, which will make any performance on stage or recording easier.
The design can also make a lot sense if you play on stage. A particular design will draw the attention to you and you will certainly be bombarded with questions at the end of the concert.
It's up to you to decide which elements are most important to you, and then choose the most appropriate electric violin for your needs and wishes.
Do you know what are the advantages of an electric violin compared to an acoustic one?
Getting started with electric effects
You may want to associate your electric violin with effects like distortion, wah wah, reverb or delay. All electric violins can be paired with a multi-effects or effects pedals but the cleaner and more powerful the signal, the easier it will be for you to create your own electric violin sounds.
A sound engineer will always tell you that it is better to work on the signal beforehand! The big mistake is to think that it's easy to rework the whole recording with the software. Simplify your task by getting the best signal possible!
You will have to take a good look at the sound quality of the electric violin pickup: a sensor by string is always better than a single sensor for all the strings… And if it's possible, avoid the internal pre-amp, since it will transform the original sound of your violin.
Many electric violins use internal preamp because their pickup isn't enough powerful. Unfortunately, it will add gain and sometimes it add also reverb. It can be a problem when you will create your FX chains. You won't be able to remove it…
Discover the most common effects used by musicians with their electric instrument.
Switching to a violin with 5 strings
You have normally started on a classical 4-string violin and you are tempted to switch to a 5-string violin. Yes, 5-string violins exist; in addition to the 4 traditional strings, we add the Do or C string, with a lower tone and usually used on violas.
There are 5-string classical violins although they are less abundant than 5-string electric violins. Buying a first electric violin is an opportunity to get started 5-string. A 5th string offers many advantages in terms of sound!
If you are unsure about your ability to play a 5-string violin, read our tips on how to play a 5-string violin?
Finding an electric violin as comfortable as my classical violin
There will not be many solutions. Like every other electric instruments, electric violins offer dozens of different shapes and designs. There are no rules on this subject, and each electric violin will provide a different comfort.
If you want to have an electric violin that is identical to your classical violin, there is only one solution: get a custom-made electric violin. This is what we propose with the 3Dvarius, which can be the exact copy of your classical violin. We precisely measure your classical violin in order to reproduce it in its electric version. It will have the 3Dvarius design with the exact dimensions of your classic violin.
What tone do you want?
An electric violin cannot have the same sound of a classical violin. They are different in their construction and therefore their sound. One has a sound box while the other uses an "electric" bridge to reproduce the signal of the strings. Don't compare an electric violin and a classical one. Even if they are two violins, they have many differences. And they cannot have the same sound!
All "electric" bridges will produce a different sound, this depends on:
the material or the type of wood used to manufacture the electric violin and the bridge
the pickup technology (piezoelectric, magnetic, etc.)
the number of sensors (one for all strings, one per string, etc.)
the type of strings used
your own hearing
The last point is not insignificant, everyone will perceive the sound played differently: round or electric, aggressive or natural, etc. It is therefore important to listen to videos before you decide … Never buy an electric violin without at least hearing its sound on video!
All of these factors influence the sound of your electric violin. Moreover, it is difficult to define a sound with words that are accurate and understood by everyone! The best option then, is to listen and ask questions in order to obtain further details and advice.
Read our article to boost the sound of your electric violin.
What are the essential elements of a violin?
The left-hand support: an unconscious maker
When playing the violin, we use unconscious points of reference to locate the position of the hands. In particular, the left-hand support, which is the point of reference that allows you to find the highest notes.
Some electric violins do not have it and this may become an adjustment problem for the violinist. It is possible to play without it, but you will have to practice a lot to relocate the position of your hand and its fingers. We have chosen to preserve the left-hand support on all our electric violins.
Weight
The weight of the electric violins is superior to that of classical violins. A classical violin being hollow, has necessarily less material and weighs less. In contrast, an electric violin is made of solid wood and will be heavier. The weight depends on each electric violin and its manufacturing.
Check it out in its technical specifications sheet. The heavier the violin, the more likely you are to have pain and tension in the shoulder, arms, hands and fingers. This can even turn into chronic tendonitis.
Note that a classical violin weighs approximately 480gr. Our electric violins weigh no more than 570gr maximum for the 4-string versions.
Weight distribution
Weight distribution is essential on an electric. Since it is heavier, it is preferable that it is also properly distributed in order to spare you the extra tension. If the whole mass is at the head of the violin, the weight will be supported by the arm and the left hand which then will have less flexibility and will feel the weight after only a few minutes of practice.
The shoulder rest
Would you agree to use a shoulder rest different from the one on your classic violin? The comfort of your electric violin may depend on this factor. Some electric violins impose a violin manufacturer and are not compatible with classical violin shoulder rests. Perhaps you will be more comfortable with your usual classic violin shoulder rest?
All 3Dvarius electric violins are compatible with classical violin shoulder rests.
What design do you have in mind?
The visual aspect is an element that will define your style and be specific to you. The possibilities for the design are infinite: colors, types of wood, shapes, materials, etc.
There are no rules when it comes to the electric. You are free to choose whatever pleases you. Attention, even comfort! Make sure you're comfortable when playing! A poorly studied design can make an electric violin uncomfortable.
About 3Dvarius, violinists often remind us of its totally transparent design that contrasts with what we usually see. Its body is entirely 3D-printed using a special transparent resin. Just so you know, this transparency also reflects stage lights. No need to add LEDs that will not always coincide with the stage lights.
The transparency of the 3Dvarius naturally reflects the spots of light. The rays of light pass right through the body of the violin and illuminate it from within. This reflection effect is clearly visible in the following video.
Do you have any questions? Any doubts about your first purchase of an electric violin? Please feel free to contact us, we will gladly answer all your questions.
Photo: Thomas Tetu, Amanda Smith